News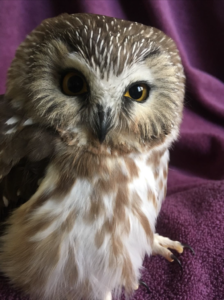 Hoosier Village welcomes an unexpected guest… Guess whoooo?
Mr. and Mrs. Kelly of Spindletree found a visitor on their porch this past Sunday whose beauty is worthy of sharing.  They also had a heartwarming experience with PROVIDENCE WILDLIFE REHABILITATION and wanted to spread the word to the Hoosier Village Community.  Everyone please visit this facility's website and contact them for any wildlife in need of rescue.
Providence Wildlife Rehabilitation, Inc.
2425 202nd St E Westfield, IN 46074
TEXT TO: 317-902-DUCK (3825)
Younger Seniors Line Up for Large Homes at CCRC
One non-profit continuing care retirement community (CCRC) operator has quickly sold all of its newly constructed luxury duplexes, attracting a highly sought after population of younger seniors in the process. The provider, Indianapolis-based BHI Senior Living, believes this shows that seniors do not necessarily want to downsize as they age, and the senior living industry could benefit by building bigger.
BHI recently sold the last of 30 newly constructed luxury duplexes at its 395-unit Hoosier Village community in Indianapolis. BHI has three other CCRCs in Indiana: The Towne House in Fort Wayne, Four Seasons in Columbus and Wesley Manor in Frankfort. The company also owns a 15-hole golf course located a short drive away from Hoosier Village.
Each duplex at Hoosier Village has many of the same design features you'd see in a standalone single-family dwelling, such grassy yards, mature trees, front porches, oversized two-car garages, open floor plans and upscale kitchens.
The homes represent a significant investment of roughly $14.5 million, with an additional $2 million going toward infrastructure such as roads and drainage. But that investment has paid off thus far, according to BHI's president and CEO, John Dattilo.
"We had a tremendous response from the market," Dattilo told Senior Housing News. "All of the units had deposits on them before we even started to build, and that was just a matter of a couple months."
Not afraid of the basement
Part of the appeal of the big homes is that they offer everything one might have had in their pre-retirement dwelling, but with the added security and comfort of being part of a CCRC.
"When people came to one of our communities, they weren't always looking to downsize or live a different lifestyle than they currently had," Dattilo said. "They don't want to leave their nice cabinets and countertops and stainless steel range hoods and crown molding."
Some of the duplexes even come with finished basements—a feature some other CCRCs have shied away from, Dattilo said.
"People that are coming to us are coming from these homes with large, finished basements," he added. "Traditionally, other levels in retirement community homes were kind of prohibitive, but we just decided we were going to duplicate what [retirees] already have at home."
That focus on design and detail might be why the duplex's residents are generally more affluent and younger than their counterparts in the CCRC's independent living wing.
"We see a lot of applications come in from people with significant personal assets," Dattilo said. "And if we can bring in a resident that is 72 versus 82 years old, that's a big benefit to our community."
Entry fees for residents range from $550,000 to $650,000. They also must pay a monthly service charge, depending on where they fall on the care continuum.
"I absolutely believe there is an untapped segment of the market," Dattilo said. "For a long time, we had this predetermined notion of what retirement living is supposed to look like and feel like, but it's exactly what we already have in our own homes."
BHI, which Dattilo described as a "very entrepreneurial" nonprofit, increasingly sees its future in bigger homes for more independent residents. Future plans also include a second dog park, garden areas, pavilions and nature trails.
"I think you will see BHI gravitate in that direction," Dattilo said. "We're going to be looking at units with larger spaces, and we're not going to be afraid to look at upstairs rooms, additions, or…things like basements."
Written by Tim Regan
See original article: seniorhousingnews.com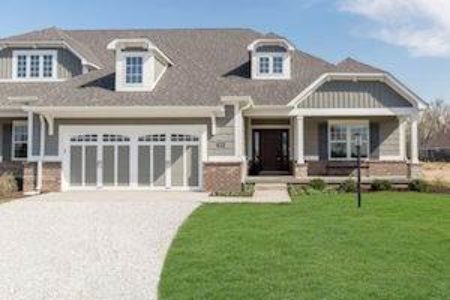 CCRC adds 4,100-square-foot duplexes to attract baby boomers
Author: Lois A. Bowers, Senior Editor
Ten months after breaking ground on a project intended to attract baby boomers and others looking for a different environment in which to age, nonprofit BHI Senior Living has sold all 30 duplexes in an expansion of its Hoosier Village continuing care retirement community in Indianapolis, and the first residents are moving in.
Each unit in The Oaks, a new independent living section of the community's 300-acre campus, has 4,100 square feet of living space (more than 2,000 on each floor). The homes feature front porches, oversized two-car garages, open floor plans, sunrooms, screening-in porches, laundry rooms, walkout basements that can be finished, and high-end finishes and amenities .
Entry fees range from approximately $340,000 to $630,000, according to BHI.
"Baby Boomers want a different product, so we're creating something entirely new for this market," John Dattilo, president and CEO of BHI Senior Living, said in a statement. "They want homes and options that duplicate the standard of living they already enjoy."
The neighborhood features mature trees and green space. Hoosier Village's second dog park, garden areas, pavilions and nature trails are planned.
"We rarely see this size of unit anywhere in the country," said Steve Johnson, managing director of specialty investment bank Ziegler. "We're impressed with the success Hoosier Village is having, especially related to the unusually high occupancy rate."
BHI has three other CCRCs in Indiana. A spokeswoman for the company told McKnight's Senior Living that two of the other campuses have smaller duplexes. "We have plans for more duplex or cottage-style homes in our markets, but we are not yet certain of the size or design," she said.
Only In Indiana: Trauma doll volunteers do it to create smiles they'll never see
Published on 13 WTHR
August 16, 2017
Article Written By Kevin Rader
INDIANAPOLIS – Here in Indiana, it's not unusual to find Hoosiers doing something good in complete anonymity. They don't do it for attention. They do it because they know what it can mean to someone in need.
Schemmel said she was diagnosed with Parkinson's disease in 2013 after she turned 70. "I'm four years older, but I feel better now than I did then," Schemmel said. Now, she said she can run several errands before getting worn out, unlike prior to going to Rock Steady. Schemmel said she plans to volunteer to help at the Hoosier Village site.
The hospital isn't usually thought of as a good place to be. That is why so many people at this place work so hard to put as good a face on things as possible.
Sometimes that means no face at all. In fact, no one ever sees these faces. Every Monday for at least three years, some say more, these women gather to cut, stitch, stuff and paint dolls to put a smile on the face of a child they will never meet. "I take them home and sew them," said Judy Zinn. "I am not a stuffer, I am not an artist so this is something I can do."
"We want to fill all the nicks and crannies," said one volunteer as she worked. Some of the trauma dolls have no face, giving the child an opportunity to draw their own… thereby revealing their own feelings. The rest are two faced. "I think of all the children that will get some joy out of this and be able to express themselves being sad or happy," said Sylvia Baker. "The doctor can ask how they feel and they can put up the smiley face or the sad face. It's hard for a small child, particularly if they don't feel good, to explain to you how they are feeling."
It's also a great opportunity for these residents at Hoosier Village to get together socially. "Our hands are busy and our chattering is just a side issue," another resident told us. We asked Jane Fay if there was anywhere else she would rather be on a Monday morning "No, but I often have to go to the ophthalmologist," she said.
Another resident, part of a Parkinson's group, said "We discussed apathy, that apathy is the killer of people with Parkinson's. You don't have apathy if you come and sit in this room." And the goal is to make sure there is no apathy in this room as well. "It's good to know these children are enjoying these," said Baker. "They just hold them and play with them and look at them and who knows what they are thinking. I would love to be in their little minds and know and see."