Published in Current – Zionsville
May 24, 2017
Article Written By Mark Ambrogi
Ronald May has made it his mission to chronicle stories about veterans."I want to help them preserve their stories," he said. "A lot of their own families don't even know. It's a living history. It's a chance to record something that is really significant in our nation's history."
May, 54, started as chaplain of Hoosier Village, a senior living community in Zionsville, in 2015, where the services are non-denominational. He has been serving different churches as a Lutheran pastor in the Indianapolis area since 1995. He was a chaplain in the Navy Reserves for 22 years from 1990 to 2012.
"When I retired, I wanted to stay somewhat connected to the military, so in retirement that usually means staying connected to a veteran community," said May, who moved to Carmel a year ago.
He started to examine ways he could do that.
"When I was a pastor, I always enjoyed talking about our veterans who had died and included in the message some of their military service and what the contribution meant to them and if it was a time of war," May said. "So the idea of interviewing veterans came to mind,  and I started inquiring to newspapers to see if any would be interested in receiving stories about veterans' service."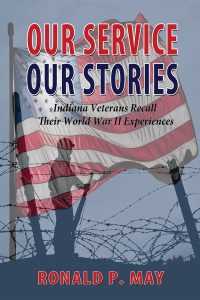 The Martinsville Reporter-Times began running his articles in 2012.
May started by interviewing veterans he already knew about from the congregations, focusing mostly on World War II veterans.
"The stories got good reception and I enjoyed it," May said. "From there, the idea came, why not expand the articles into chapters and publish a book?"
His first book, "Our Service, Our Stories: Indiana Veterans Recall Their World War II Experiences," was published two years ago.
May got involved in Indy Honor Flight, a nonprofit that transports veterans to Washington, D.C. to visit their memorials, in 2012.
"That helped me to find out about veterans in the area, offering an interview and writing a service story about them," May said.
In addition, May has written veterans stories for the Hendricks County Flyer.
"It's a labor of love, because the time it takes and distance to drive," May said.
As part of his job as chaplain, May has offered to write stories of Hoosier Village veterans.
"I then asked them permission to include that in a future book," May said. "Then I let them know if they would like a story just about you, then family members might be willing to bear the expense for that."
May is in the process of writing a second book with World War II veterans' stories.
"We still have a window of opportunities to capture those stories, but it's closing fast," May said. "The youngest World War II veterans are 89 or 90. In general, I think there is more interest in reading those stories because it's a war that really doesn't have any controversy associated with it. It's a pretty clean black and white scenario."
May said he might do a third book on World War II.  Then he plans to do a book with a mix of Korean and Vietnam veterans.
"I want to honor the veterans, educate the community and the next generation because today less than 1 percent of the population serves in the U.S. Armed Forces, so it's not easily experienced," May said. "In World War II, even if you didn't serve, your neighbor or your uncle did."
Many World War II veterans who served in combat weren't ready to talk about it for a long time.
"There has been a lot more interest in their stories in the last 20 years than there was in the first 50," May said of World War II vets. "Slowly, the vets have gotten to the point where they're more willing to share. I think there is a therapeutic process. Sometimes you open up more to strangers than you do to your own family. There is a freedom to be honest."
May said some of the most rewarding feedback comes from family members.
"They'll say thanks, we didn't know this about their dad, grandfather, husband or whatever," said May, who is single with three grown children, Karlie, 25, Jonathan, 22 and Kristie, 20.
May's book is available at Black Dog Books in Zionsville.
Paying tribute
May said there are approximately 80 World War II, Korea and Vietnam veterans living in Hoosier Village.
May was instrumental in starting a Veteran Garden at Hoosier Village in May. It honored living veterans from Hoosier Village as well as late spouses of residents.
Hoosier Village resident Ray McDonald, who turns 90 July 6, is appreciative of May's contribution. He entered the service in October 1945, just after World War II ended. He served in the occupation forces in Japan in 1946 and 1947.
McDonald, who lives at Hoosier Village with his wife, Fro, started a Veterans Club when he moved to Hoosier Village from Fishers nearly five years ago.
"Ron was helpful with the Veterans Club, and then he spearheaded the Veteran Garden," said McDonald, whose son, Bob,  was the U.S. Secretary of Veterans Affairs from 2014 to earlier this year.  "I don't know how we were so fortunate to get him here. He's just done a super job. All the residents are pleased with the care he gives, whether they are ill, in the memory center. He has a big heart for everybody."