Hoosier Village chaplain Ronald May has long understood how important it is to record the memories of the Greatest Generation while there is still time.
May will launch his book, "Our Service, Our Stories Volume 3," at 2:30 p.m. April 29 at the Hoosier Village Chapel, 5385 Soapberry Dr. May, a 58-year-old Carmel resident, had 14 stories from past and present residents of Zionsville's Hoosier Village one from a resident of The Barrington in Carmel."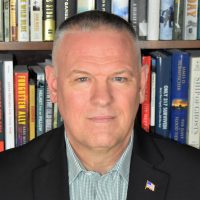 "Of the 17 veteran stories in the book, 10 have passed away since I interviewed them and four are still with us," May said. "The other three veterans had died before I could interview them. One died just before I was planning to interview him. The other two had been dead much longer. One died in 1954 and one in 1971. I used their letters, military documents, unit research and conversations with family to recreate their stories.
"I really enjoyed researching and bringing their stories to life. Of the civilian subjects in this volume, five of the eight are still alive."
May also included stories from civilians on the home front, who also were featured in Volume 2. A new feature in the latest volume of stories from World War II includes "Children and War," with interviews of five people who were children and adults during the war.
May said the idea to include that section was inspired when he heard stories of residents of Hoosier Village who had very significant World War II experiences during childhood. One story was from Eva Hermacinski.
"Eva and her family moved several times in Poland, first to escape the German military invasion from the west and later to escape the Soviet military invasion from the east," May said. "She and her sister eventually escaped Poland altogether and landed in England, where they were reunited with their father."
May said the civilian story that touched him the most was from Jean Umemura. As a Japanese American growing up in the state of Washington, she and her family were sent to an internment in Idaho.
Source: https://www.youarecurrent.com/2022/04/24/hoosier-village-chaplains-mission-to-relay-stories-from-world-war-ii-veterans/