Source: https://www.bhiseniorliving.org/bhi-covid-19-update/
Limestone sculpture honors staff for service 'In the time of COVID'
Gus Pearcy gus.pearcy@reporter.net
Staff of Hoosier Village Retirement Community in Zionsville were honored with a 10,000 pound limestone sculpture placed in the village at the intersection of Hoosier Village and Cherryleaf drives.
"What a beautiful gift to our staff," Hoosier Village Executive Director Mindy Kantz said. "To come in every day and be reminded of their hard work and dedication to the campus and the residents."
Residents of the Hoosier Village Arts Council arranged for the sculpture to be commissioned using Indiana limestone. Bloomington artist Amy Brier co-created the sculpture with John Fisher of California and Sharon Fullingim of New Mexico. It features three stones of healthcare staff and birds of hope and is entitled 'In the Time of COVID."
"The one they're lifting up now is of an exhausted health care worker," Kantz said as the stones were being placed with the help of a crane last week. "Our staff have not seen the sculpture."
Hoosier Village suffered COVID deaths during the height of the pandemic. Kantz, who is a registered nurse, said everybody just did what needed to be done.
"They stuck to the mission of providing a safe and secure environment," she said. "I look back and see some amazing things by the staff. They did what needed to be done, no matter what."
She added the early days were pretty scary. There was an additional wave of cases last winter. The community specified a COVID unit where residents would go to recover. Some residents passed away.
"We really concentrated on the needs into the health center at that time," she added. "Quarantining and cutting back on visitations … that was tough."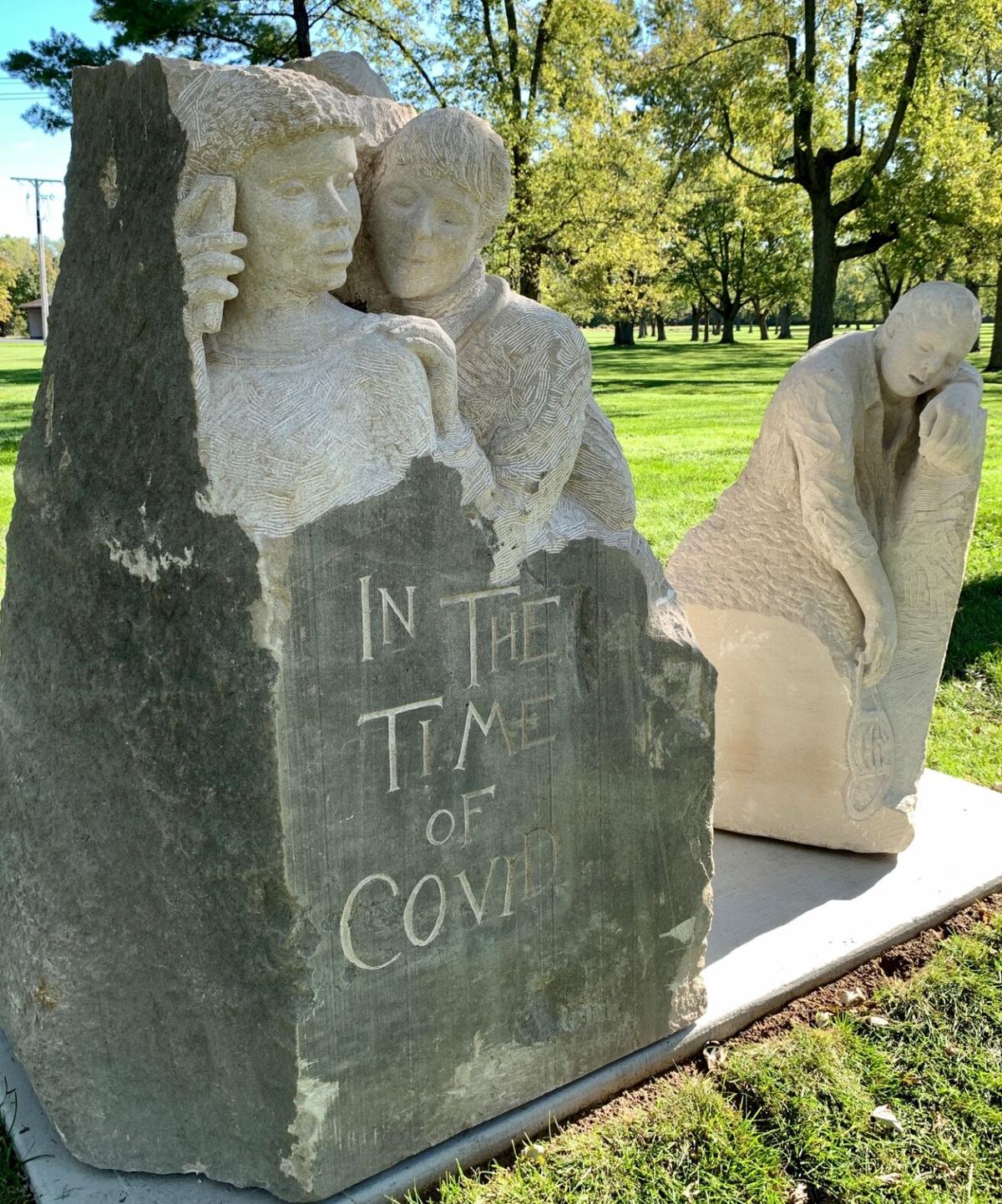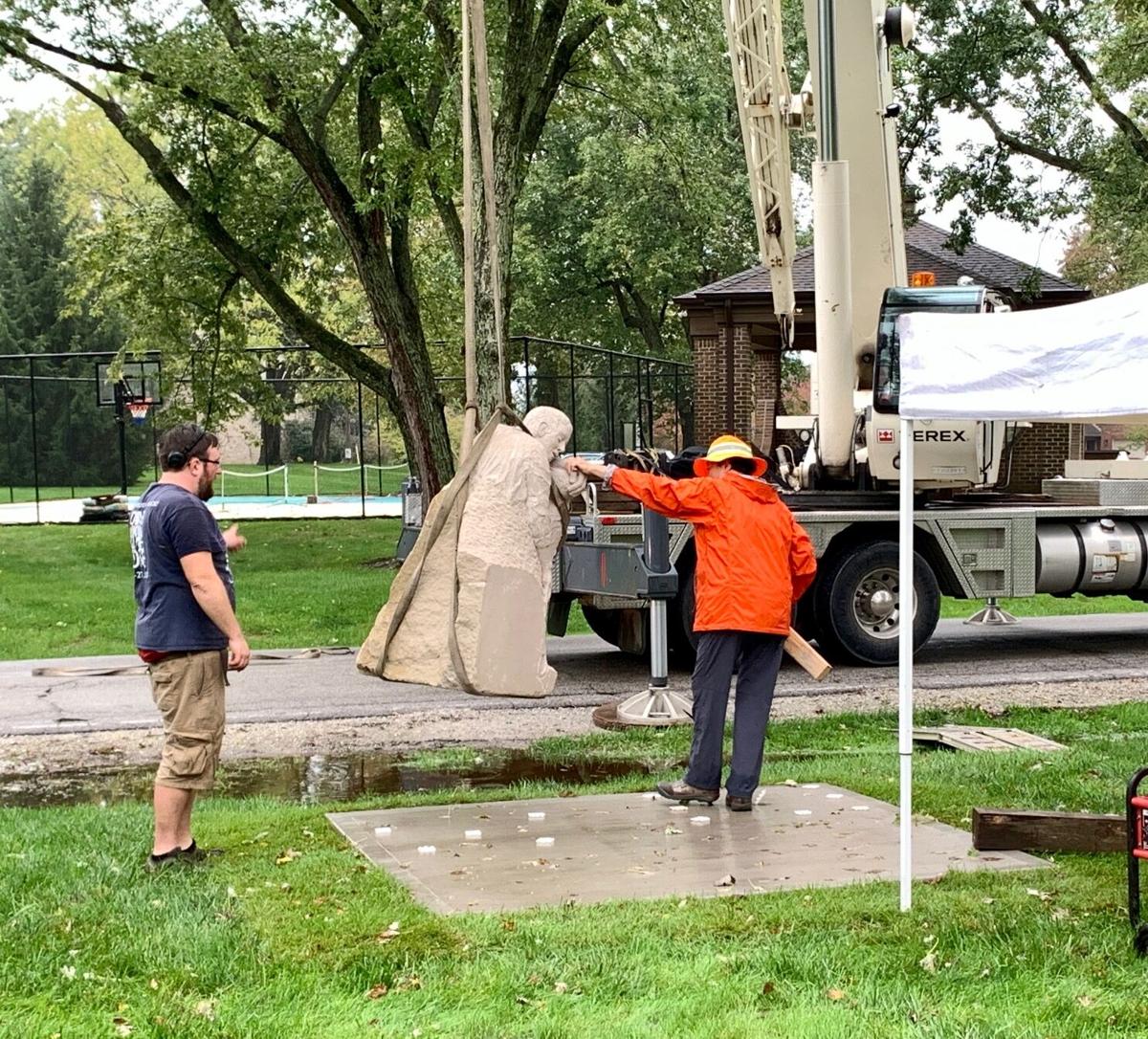 Limestone sculpture honors retirement village staffers
INDIANAPOLIS — Gratitude, literally carved in stone. A limestone sculpture was unveiled on Friday honoring healthcare workers at Hoosier Village Retirement Community.
The residents of Hoosier Village were grateful for the service and the dedication of staff members at the retirement community throughout the COVID-19 pandemic, so they commissioned a sculpture to be a permanent reminder of their appreciation.
Three artists worked together on the project, and one of them said they're ready for more assignments like this, as well as more community input.
Hoosier Village commissioned the sculpture without knowing what it would look like. They left that up to the sculptors.
The limestone was donated by the Bybee Stone Company in Ellettsville.
A tour through Morrison Living's Hoosier Village multi-platform dining space
Begun two years ago but not opened until early this year, the transformation of the dining space at Hoosier Village senior living community in Indiana converted what had been a traditional, inflexible and mostly outdated dining room into a multi-platform area that provides all-day service with options ranging from casual sit-down dining at the Green Onion bistro, all-day grab and go from a market area, a social space for drinks and shareable appetizers and tapas in the Pullman Bar and formal dinner service in a revamped dining room.
The changes were overseen by the management company that operates dining for the community, Morrison Living, and incorporates Morrison concepts like its Jack and Olive line of grab-and-go packaged sandwiches, salads and desserts produced in a nearby company commissary.
Hoosier Village creates "residents' favorite dining destination"
[source:  https://www.food-management.com/fm-innovators/hoosier-village-creates-residents-favorite-dining-destination]
Mike Buzalka | Sep 07, 2021
With the help of Morrison Living, Hoosier Village's recent dining space transformation produced a bistro, a market and a bar to provide residents flexibility whether they want to dine in or take out.
Creating a desirable, safe and efficient dining program in a senior community poses multiple challenges, especially in the wake of the COVID pandemic and its offshoots. Nevertheless, the Morrison Living dining team at Hoosier Village in Indianapolis has partnered with the community to create a foodservice space designed to "feel like our residents' favorite dining destination."
The project converted Hoosier Village's traditional single dining space into a modern multi-format one that now offers three new outlets—the casual dining Green Onion bistro, a retail market featuring grab and go options and the Pullman bar with its appetizer/tapas centered menu, along with a facelift to the pre-existing dining room, which offers dinner service.
"We really wanted to open the space up and give flexibility to our residents by turning the area into a multi-function/multi-use venue," says Mark Perry, director of dining services. "The space now gives residents the option to get breakfast and lunch with table service in the bistro, or just get a grab and go meal or snack to take away."
Open for breakfast and lunch, the Green Onion has seating for between 35 and 50, depending on configuration, and offers a casual dining menu that includes appetizers like soups and shrimp cocktail, salads, sandwiches, wraps, burgers, sides and house specials such as salmon, filet mignon and build-your-own omelets.
The market, which remains open all day, carries Morrison Living's Jack and Olive grab-and-go line of seasonal and traditional favorite packaged sandwiches, salads and desserts produced in a company commissary and brought in three times a week, while the Pullman bar, located across from the bistro, was designed to be a "fun space," Perry observes. "It's a place where you can come and get some tapas, some small bites and a drink before dinner." It also hosts special events and watch parties such as for the Kentucky Derby and the NCAA March Madness basketball tournament, and generally offers residents a space to socialize in a casual atmosphere. The menu has selections such as house-cured smoked salmon carpaccio, apricot bourbon glazed chicken wings and spinach pesto burrata and also offers some outdoor seating when the weather permits.
The main dining room seats close to 140 at maximum and offers traditional restaurant-style dining for dinner with table service and a full a la carte menu.
Adam Howard (left), executive chef at Hoosier Village, and Robert Campbell, senior corporate cxecutive chef at Morrison Living, with a dessert display in Hoosier Village's Green Onion bistro servery.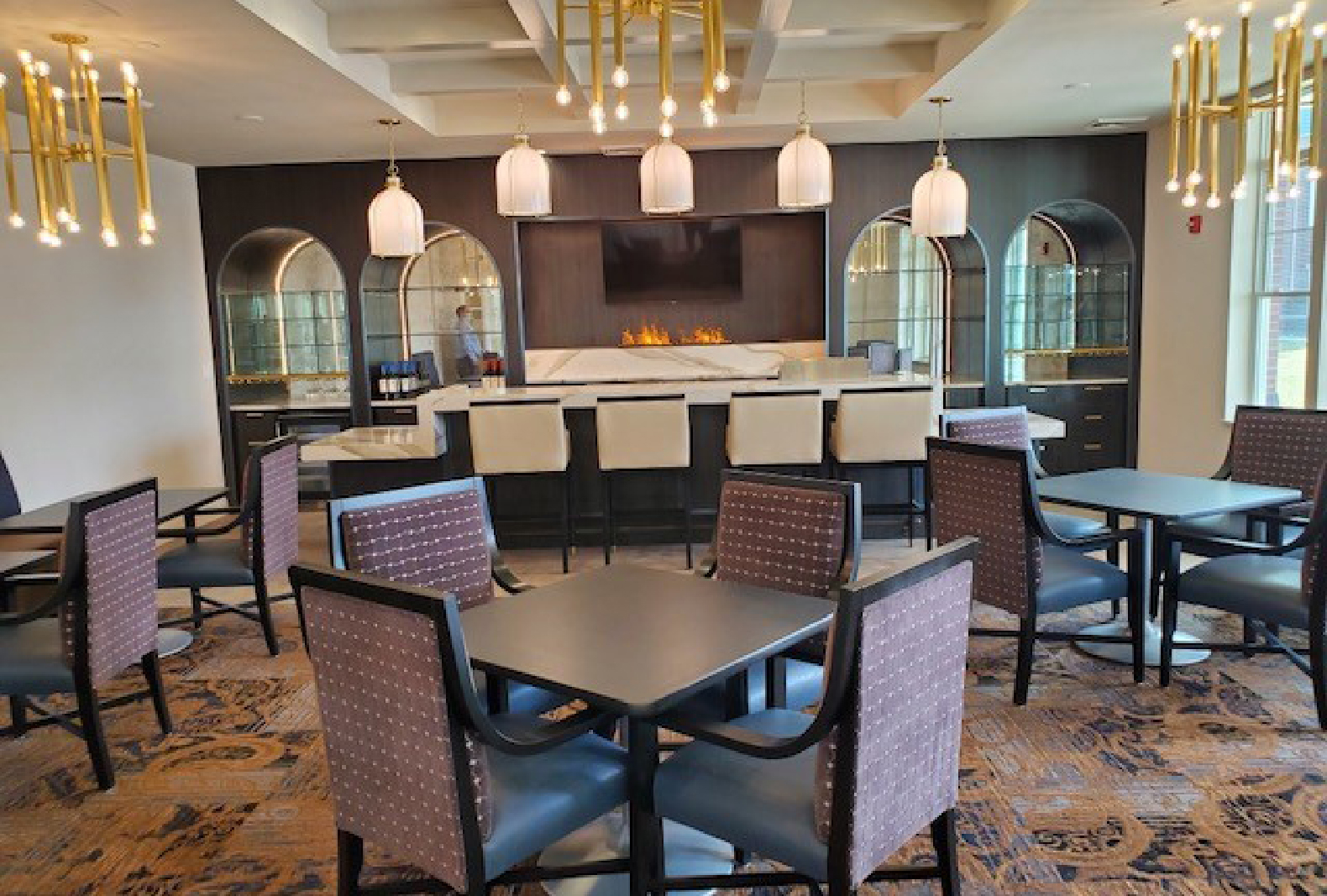 The Pullman Bar offers a casual space to get together for special events, watch parties and pre-dinner drinks.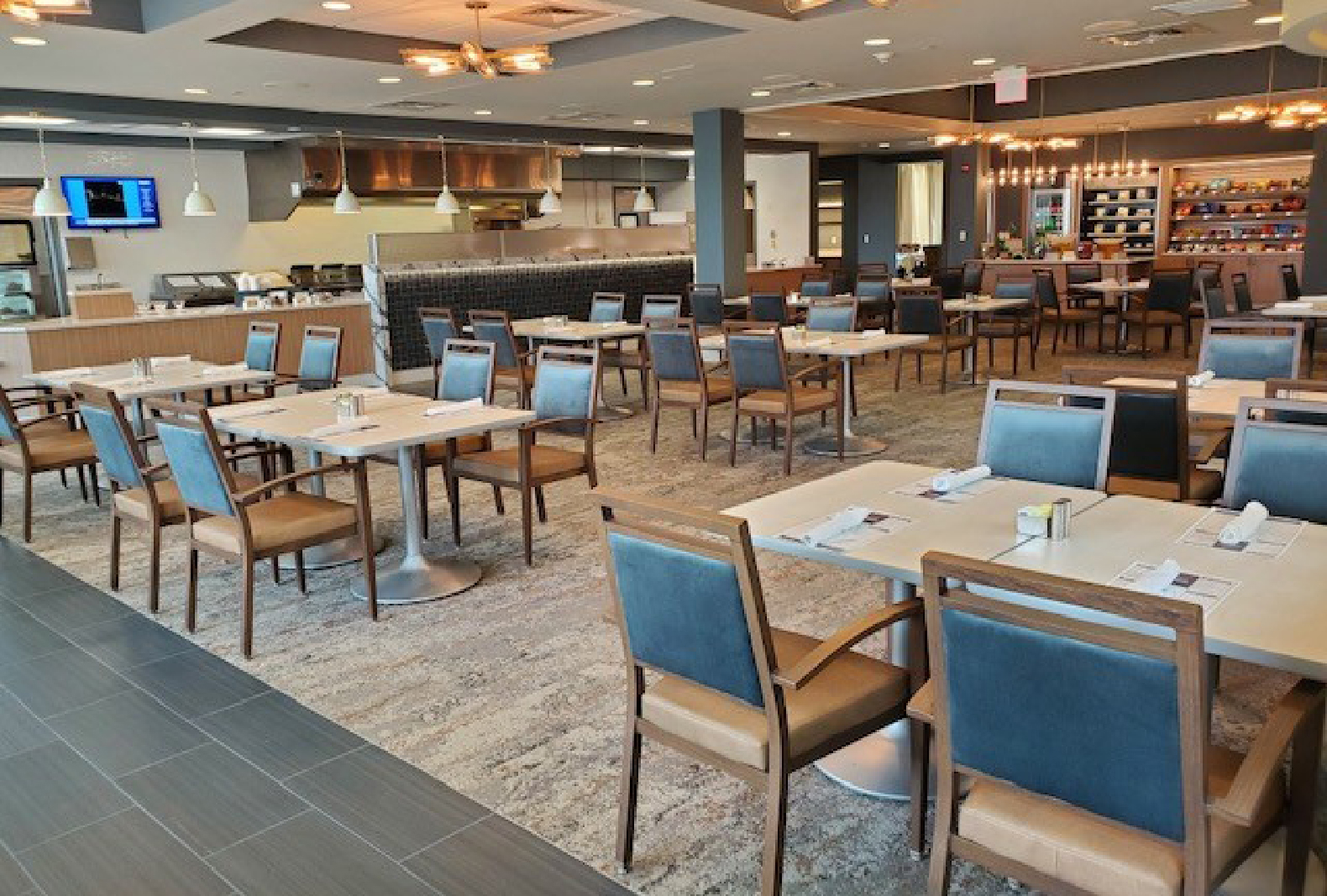 Green Onion bistro offers sit-down breakfast and lunch service for Hoosier Village residents.
All the various dining platforms are located in one footprint that originally just contained the restaurant and its dining room.
"When we designed it, we opened up the whole lobby service area, which used to be a closed in space, but we thought it was important to see the entire dining complex as you enter," Perry notes.
It allows Morrison to maximize staffing, production and service efficiency while giving residents personal service. "Interaction between residents and our staff is one of the best things about our business and something both we and the residents wanted to continue," Perry comments.
Planning for the renovations began in 2019 but obviously hit a snag when COVID emerged early the following year. Nevertheless, the project continued under the constrained conditions, says Phillip Dopson, vice president of design and retail for Morrison Living.
"The challenges really started on the materials side with the realization that we weren't going to get things as quickly as we thought—or even when we were told—so communication was vital, as it was a moving target beyond our control," he recalls. "Later, the general contractor had some subs who were unwilling to come to the project site because of all the hoops they had to jump through just to work there each day, and then some workers became infected and couldn't come, so it was just one thing after another."
In response, "we put more resources on the job from a corporate level from our side to help get ready," Dopson adds. "Then, the community had its own challenges in where they were in the pandemic cycle. In the end, it didn't go exactly as planned, but it wasn't horribly delayed either. You just had to be very flexible."
The debut finally took place in January 2021 with the bistro and market opening first, followed by the bar later in the month.
It has been operating more or less as originally conceived since its opening, and "has been received well," Perry says. "We've been very busy in the dining rooms because the majority of residents do come down. Breakfast is a bit slower, but we pick up at lunch and the dinner service is one of our bigger meals. The residents have commented on how nice and inviting the space is. It had been a tough year and there have been challenges we've had to face, but this has been a very welcome addition to come back to." 
Hoosier Village is a multi-level continuous care retirement community (CCRC) with between 500 and 600 residents in independent living, assisted living, skilled nursing, memory care and rehab units. Located on a 300-acre campus near Zionsville just outside Indianapolis, it is a non-profit life plan community founded in 1952.