Source: https://www.bhiseniorliving.org/bhi-covid-19-update/
A tour through Morrison Living's Hoosier Village multi-platform dining space
Begun two years ago but not opened until early this year, the transformation of the dining space at Hoosier Village senior living community in Indiana converted what had been a traditional, inflexible and mostly outdated dining room into a multi-platform area that provides all-day service with options ranging from casual sit-down dining at the Green Onion bistro, all-day grab and go from a market area, a social space for drinks and shareable appetizers and tapas in the Pullman Bar and formal dinner service in a revamped dining room.
The changes were overseen by the management company that operates dining for the community, Morrison Living, and incorporates Morrison concepts like its Jack and Olive line of grab-and-go packaged sandwiches, salads and desserts produced in a nearby company commissary.
Hoosier Village creates "residents' favorite dining destination"
[source:  https://www.food-management.com/fm-innovators/hoosier-village-creates-residents-favorite-dining-destination]
Mike Buzalka | Sep 07, 2021
With the help of Morrison Living, Hoosier Village's recent dining space transformation produced a bistro, a market and a bar to provide residents flexibility whether they want to dine in or take out.
Creating a desirable, safe and efficient dining program in a senior community poses multiple challenges, especially in the wake of the COVID pandemic and its offshoots. Nevertheless, the Morrison Living dining team at Hoosier Village in Indianapolis has partnered with the community to create a foodservice space designed to "feel like our residents' favorite dining destination."
The project converted Hoosier Village's traditional single dining space into a modern multi-format one that now offers three new outlets—the casual dining Green Onion bistro, a retail market featuring grab and go options and the Pullman bar with its appetizer/tapas centered menu, along with a facelift to the pre-existing dining room, which offers dinner service.
"We really wanted to open the space up and give flexibility to our residents by turning the area into a multi-function/multi-use venue," says Mark Perry, director of dining services. "The space now gives residents the option to get breakfast and lunch with table service in the bistro, or just get a grab and go meal or snack to take away."
Open for breakfast and lunch, the Green Onion has seating for between 35 and 50, depending on configuration, and offers a casual dining menu that includes appetizers like soups and shrimp cocktail, salads, sandwiches, wraps, burgers, sides and house specials such as salmon, filet mignon and build-your-own omelets.
The market, which remains open all day, carries Morrison Living's Jack and Olive grab-and-go line of seasonal and traditional favorite packaged sandwiches, salads and desserts produced in a company commissary and brought in three times a week, while the Pullman bar, located across from the bistro, was designed to be a "fun space," Perry observes. "It's a place where you can come and get some tapas, some small bites and a drink before dinner." It also hosts special events and watch parties such as for the Kentucky Derby and the NCAA March Madness basketball tournament, and generally offers residents a space to socialize in a casual atmosphere. The menu has selections such as house-cured smoked salmon carpaccio, apricot bourbon glazed chicken wings and spinach pesto burrata and also offers some outdoor seating when the weather permits.
The main dining room seats close to 140 at maximum and offers traditional restaurant-style dining for dinner with table service and a full a la carte menu.
Adam Howard (left), executive chef at Hoosier Village, and Robert Campbell, senior corporate cxecutive chef at Morrison Living, with a dessert display in Hoosier Village's Green Onion bistro servery.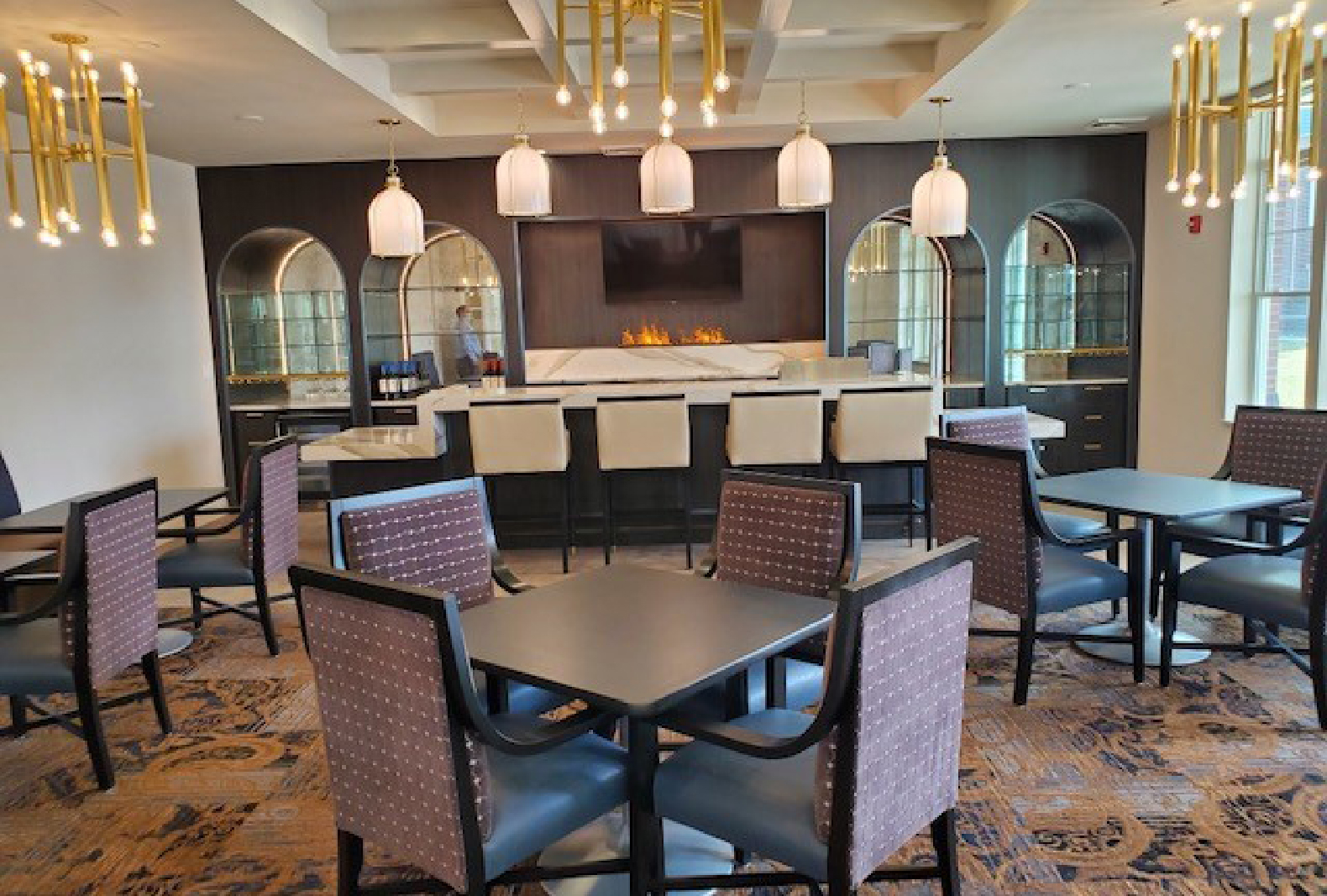 The Pullman Bar offers a casual space to get together for special events, watch parties and pre-dinner drinks.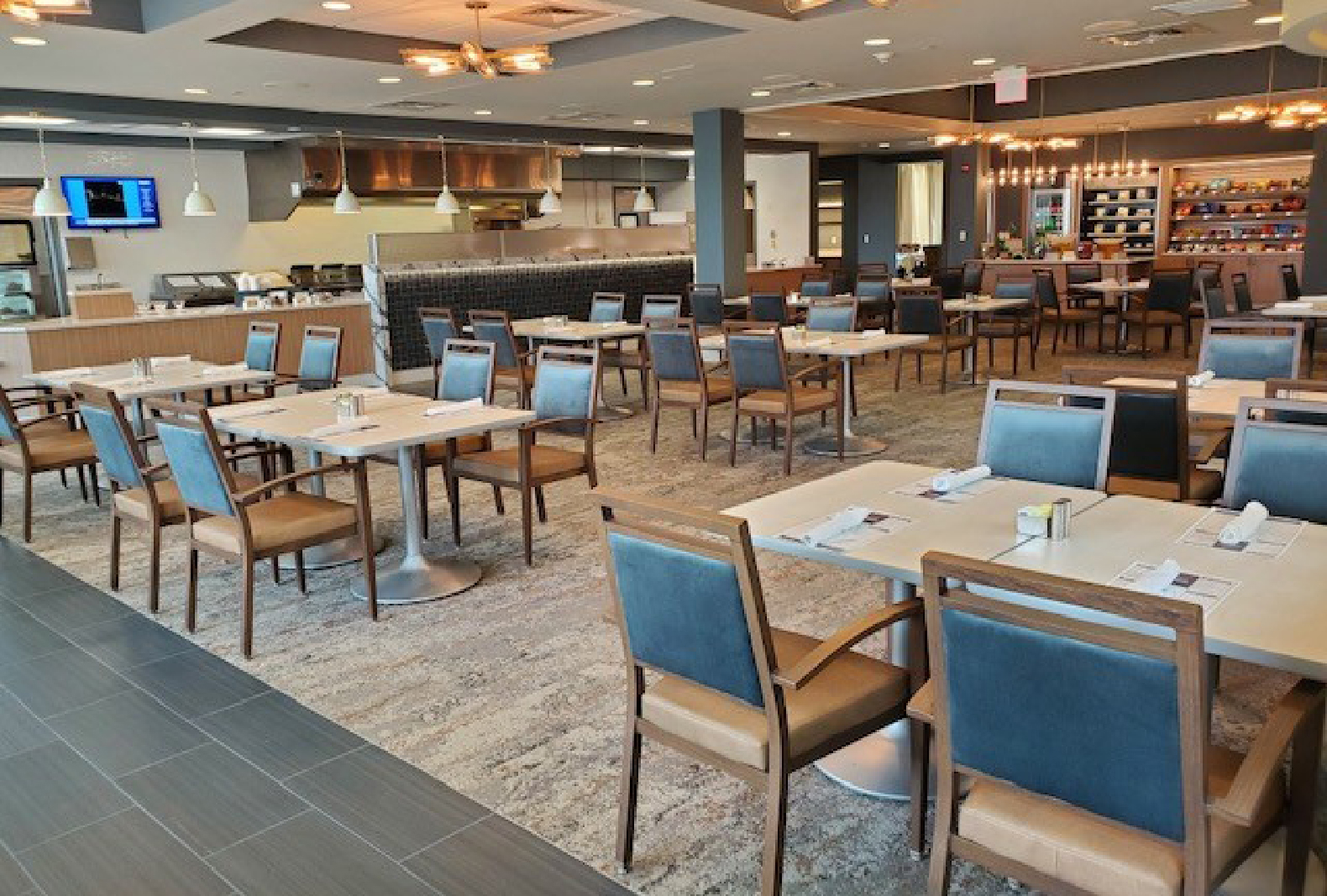 Green Onion bistro offers sit-down breakfast and lunch service for Hoosier Village residents.
All the various dining platforms are located in one footprint that originally just contained the restaurant and its dining room.
"When we designed it, we opened up the whole lobby service area, which used to be a closed in space, but we thought it was important to see the entire dining complex as you enter," Perry notes.
It allows Morrison to maximize staffing, production and service efficiency while giving residents personal service. "Interaction between residents and our staff is one of the best things about our business and something both we and the residents wanted to continue," Perry comments.
Planning for the renovations began in 2019 but obviously hit a snag when COVID emerged early the following year. Nevertheless, the project continued under the constrained conditions, says Phillip Dopson, vice president of design and retail for Morrison Living.
"The challenges really started on the materials side with the realization that we weren't going to get things as quickly as we thought—or even when we were told—so communication was vital, as it was a moving target beyond our control," he recalls. "Later, the general contractor had some subs who were unwilling to come to the project site because of all the hoops they had to jump through just to work there each day, and then some workers became infected and couldn't come, so it was just one thing after another."
In response, "we put more resources on the job from a corporate level from our side to help get ready," Dopson adds. "Then, the community had its own challenges in where they were in the pandemic cycle. In the end, it didn't go exactly as planned, but it wasn't horribly delayed either. You just had to be very flexible."
The debut finally took place in January 2021 with the bistro and market opening first, followed by the bar later in the month.
It has been operating more or less as originally conceived since its opening, and "has been received well," Perry says. "We've been very busy in the dining rooms because the majority of residents do come down. Breakfast is a bit slower, but we pick up at lunch and the dinner service is one of our bigger meals. The residents have commented on how nice and inviting the space is. It had been a tough year and there have been challenges we've had to face, but this has been a very welcome addition to come back to." 
Hoosier Village is a multi-level continuous care retirement community (CCRC) with between 500 and 600 residents in independent living, assisted living, skilled nursing, memory care and rehab units. Located on a 300-acre campus near Zionsville just outside Indianapolis, it is a non-profit life plan community founded in 1952.
Shout Out for Two Hoosier Village Veterans
By Chaplain Ron May
Hoosier Village staff members are encouraged to recognize the outstanding work of fellow team members by sending email 'shout outs' for jobs well done.  In the same spirit, I offer a shout out for two Hoosier Village veteran residents who demonstrated great honor to a man they had never met and great service to his family.
August 20th looked like it was going to be a regular Tuesday.  A phone call changed all of that.
The call came from Emily, a granddaughter of one of our residents.  She works at a local funeral home.
Knowing that I was a retired Navy Reserve Chaplain, she was calling me in a last ditch effort to see if I knew of any way to secure military honors for a veteran who had died and was scheduled to be buried in 2 hours.
Air Force veteran Arnold "Buddy" Robins, a former resident of Indianapolis and more recent resident of Palm Beach Gardens, FL had died suddenly on August 16th at the age of 88.  His body was to be laid to rest next to his deceased wife at Beth El-Zedek Jewish Cemetery in Fishers.
Buddy had served in the state of Alaska with the U.S. Air Force from 1953-55.
His military service was brief.  Just two years.  There was but one short sentence about his service in his obituary.  No further information was given.  No further information was needed.  He had worn the uniform.  He had served with dedication and pride!
His service entitled him to receive military honors at his graveside service.
Honors usually include the playing of TAPS, the folding and presenting of the U.S. flag by military personnel, and sometimes a 3-volley rifle salute.
Military honors are, however, contingent on submitting the necessary paperwork of a Separation or Discharge Document, usually referred to as a DD214.
In Buddy's case, his separation document located in some file back at his home in Florida could not be retrieved in time by his family to secure the services of a military honors team.
Which is why the phone call came to me on Tuesday morning.
"Ron, you are my Hail Mary attempt to get some kind of military honors for this veteran", Emily said to me on the phone.
"I'll see what I can do", I responded.  I didn't have much confidence.  Who was I going to be able to reach on such short notice?
The graveside service, which was taking place 30 minutes from Hoosier Village, was set to start in 2 hours.
And then, it suddenly occurred to me.  I have almost 100 veterans right in the backyard where I work at Hoosier Village.
I immediately checked my Resident Veteran Roster and contacted Al Grayson and Don Messaglia, two Air Force veterans, to see if they could render the military honors.
Al had served as an Air Force Captain from 1967-71 during the Vietnam era.
Don served as a Staff Sergeant with the Air Force from 1952-56, during the Korean Conflict.
Both men responded affirmatively as soon as I asked them to help.  Al had been trimming bushes outside and Don had been on his way to lunch.
Ninety minutes later, the three of us were in suits at the cemetery.
We met Buddy's three children and offered our condolences.
I briefed Al and Don that for the military honors I wanted them to stand at either end of the casket as I played a recording of TAPS.
Wearing around their necks the Air Force medals they had received from Hoosier Village when their names had been added to our Veterans' Garden, both men rendered a sharp salute as the music began.
Pride filled my heart, both for the man in the casket who had served his nation and for the Air Force veterans on each side of the casket who never knew Buddy but chose to rush out to a cemetery to honor his service.
At the end of TAPS, the two representatives from the funeral home removed and folded the flag that had been draped over the casket.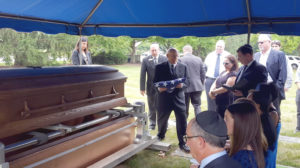 I had asked AL to receive the flag from the funeral home representative and then present it to the daughter of the deceased.
Minutes before the start of the graveside service, I had handed Al a printed text of the words that should be spoken to the next of kin when presenting a flag.  I had expected him to read the script while presenting the flag.  Instead, he memorized it and spoke the words smoothly and with deep compassion as he handed the flag to Buddy's daughter.
I had given Don an Air Force Medal (the kind we give our Air Force veterans at Hoosier Village) and asked him to present the medal to Buddy's son.  I did not give Don any script to use in presenting the medal.  He made the presentation with his own words and from the heart.
In less than 10 minutes, the military honors portion of the graveside service was completed.
Al, Don, and I walked away sweating from the heat and grateful for the opportunity to have served a fellow veteran and his family.
I thanked both Al and Don again for their willingness to serve a veteran and his family by rendering military honors.
Two days later, I received a thank you card from Emily at the funeral home.  In it, she stated, "Your thoughtful graveside attendance at the last minute made all the difference to a family grieving the loss of an extraordinary man."    
The thank you was addressed to me.  But it really belonged to Al and Don.  Two Air Force veterans who took the time to honor a fellow Air Force service member.
In Navy custom, the words Bravo Zulu mean well done.  I offer my shout out praise in the form of a "Bravo Zulu" to Al and Don – two Air Force veterans who represented their Air Force branch and their retirement community well as they rendered honors to a deceased veteran.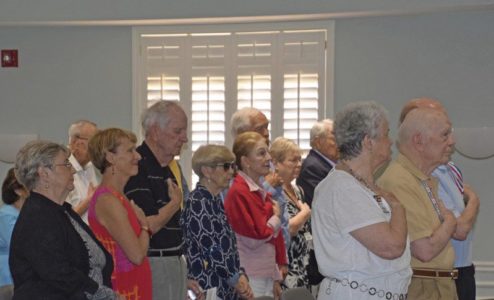 Hoosier Village honors veterans with Veterans Garden
Twenty-five veterans were honored Thursday afternoon in a special ceremony at the Hoosier Village Chapel.
In an opening prayer, Hoosier Village Chaplain Ron May thanked those who served in the armed forces and those serving in public safety. He reminded guests that over this Memorial Day weekend, those families that have borne the loss of a loved one in service and the sacrifices of active and inactive veterans must not be forgotten.
Last year, a Veterans Garden was added to the property with support from the non-profit BHI Senior Living Foundation, displaying bricks with 164 honorees' names, branch and dates of service.
Katrien Vanderbeck sang the National Anthem and God Bless the USA, as veterans and their families sang along.
"It's a pleasure to honor our veterans and years of service. We're excited to add your names to the bricks at Veterans Garden," said Hoosier Village Executive Director Mindy Kantz.
All honorees are, or were, residents at Hoosier Village.
Three served during World War II, two served during both World War II and the Korean War, eight served during the Korean War, and 12 served during the Vietnam War.
As each of the 25 names was called, veterans stood to receive a medal and flag in appreciation for their service.
Four of the 25 were given to the widows of late veterans.
Several videos shown included the Veteran Garden Dedication ceremony in 2017, a Salute to Armed Forces and a Memorial Day tribute, ending with the playing of taps.
After the ceremony, guests were shuttled by golf cart to the Veterans Garden to see their own or a loved one's name permanently stamped on each brick.
A representative from Indy Honor Flight was also on hand to accept applications. Indy Honor Flight takes veterans to Washington D.C. twice per year to visit those memorials dedicated to their service.
May said a number of Hoosier Village residents have been on the honor flight and as a volunteer. The experience was one he won't forget.
Article source: www.timessentinel.com