By Chaplain Ron May
Hoosier Village staff members are encouraged to recognize the outstanding work of fellow team members by sending email 'shout outs' for jobs well done.  In the same spirit, I offer a shout out for two Hoosier Village veteran residents who demonstrated great honor to a man they had never met and great service to his family.
August 20th looked like it was going to be a regular Tuesday.  A phone call changed all of that.
The call came from Emily, a granddaughter of one of our residents.  She works at a local funeral home.
Knowing that I was a retired Navy Reserve Chaplain, she was calling me in a last ditch effort to see if I knew of any way to secure military honors for a veteran who had died and was scheduled to be buried in 2 hours.
Air Force veteran Arnold "Buddy" Robins, a former resident of Indianapolis and more recent resident of Palm Beach Gardens, FL had died suddenly on August 16th at the age of 88.  His body was to be laid to rest next to his deceased wife at Beth El-Zedek Jewish Cemetery in Fishers.
Buddy had served in the state of Alaska with the U.S. Air Force from 1953-55.
His military service was brief.  Just two years.  There was but one short sentence about his service in his obituary.  No further information was given.  No further information was needed.  He had worn the uniform.  He had served with dedication and pride!
His service entitled him to receive military honors at his graveside service.
Honors usually include the playing of TAPS, the folding and presenting of the U.S. flag by military personnel, and sometimes a 3-volley rifle salute.
Military honors are, however, contingent on submitting the necessary paperwork of a Separation or Discharge Document, usually referred to as a DD214.
In Buddy's case, his separation document located in some file back at his home in Florida could not be retrieved in time by his family to secure the services of a military honors team.
Which is why the phone call came to me on Tuesday morning.
"Ron, you are my Hail Mary attempt to get some kind of military honors for this veteran", Emily said to me on the phone.
"I'll see what I can do", I responded.  I didn't have much confidence.  Who was I going to be able to reach on such short notice?
The graveside service, which was taking place 30 minutes from Hoosier Village, was set to start in 2 hours.
And then, it suddenly occurred to me.  I have almost 100 veterans right in the backyard where I work at Hoosier Village.
I immediately checked my Resident Veteran Roster and contacted Al Grayson and Don Messaglia, two Air Force veterans, to see if they could render the military honors.
Al had served as an Air Force Captain from 1967-71 during the Vietnam era.
Don served as a Staff Sergeant with the Air Force from 1952-56, during the Korean Conflict.
Both men responded affirmatively as soon as I asked them to help.  Al had been trimming bushes outside and Don had been on his way to lunch.
Ninety minutes later, the three of us were in suits at the cemetery.
We met Buddy's three children and offered our condolences.
I briefed Al and Don that for the military honors I wanted them to stand at either end of the casket as I played a recording of TAPS.
Wearing around their necks the Air Force medals they had received from Hoosier Village when their names had been added to our Veterans' Garden, both men rendered a sharp salute as the music began.
Pride filled my heart, both for the man in the casket who had served his nation and for the Air Force veterans on each side of the casket who never knew Buddy but chose to rush out to a cemetery to honor his service.
At the end of TAPS, the two representatives from the funeral home removed and folded the flag that had been draped over the casket.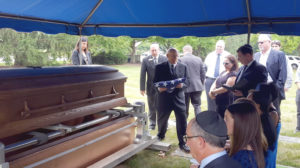 I had asked AL to receive the flag from the funeral home representative and then present it to the daughter of the deceased.
Minutes before the start of the graveside service, I had handed Al a printed text of the words that should be spoken to the next of kin when presenting a flag.  I had expected him to read the script while presenting the flag.  Instead, he memorized it and spoke the words smoothly and with deep compassion as he handed the flag to Buddy's daughter.
I had given Don an Air Force Medal (the kind we give our Air Force veterans at Hoosier Village) and asked him to present the medal to Buddy's son.  I did not give Don any script to use in presenting the medal.  He made the presentation with his own words and from the heart.
In less than 10 minutes, the military honors portion of the graveside service was completed.
Al, Don, and I walked away sweating from the heat and grateful for the opportunity to have served a fellow veteran and his family.
I thanked both Al and Don again for their willingness to serve a veteran and his family by rendering military honors.
Two days later, I received a thank you card from Emily at the funeral home.  In it, she stated, "Your thoughtful graveside attendance at the last minute made all the difference to a family grieving the loss of an extraordinary man."    
The thank you was addressed to me.  But it really belonged to Al and Don.  Two Air Force veterans who took the time to honor a fellow Air Force service member.
In Navy custom, the words Bravo Zulu mean well done.  I offer my shout out praise in the form of a "Bravo Zulu" to Al and Don – two Air Force veterans who represented their Air Force branch and their retirement community well as they rendered honors to a deceased veteran.